Modèles aléatoires en écologie, génétique et évolution
Conference
CIRM, 11th to 15th June 2012, Marseille Luminy
---
---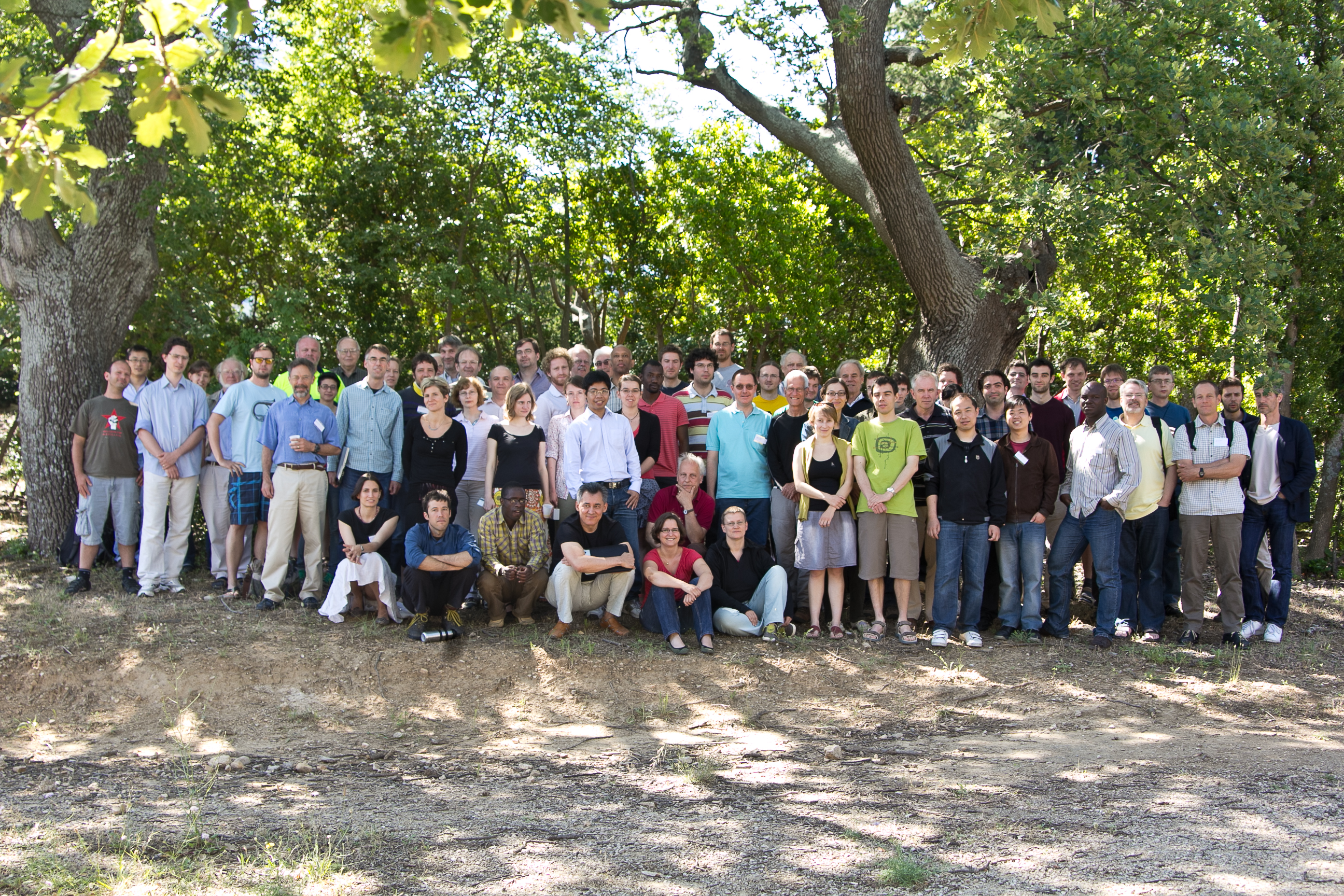 Presentations (abstracts are accessible here, slides on the title of the talk) :
Vincent Bansaye, Palaiseau : "Small positive values for supercritical branching processes in random environment"
Nick Barton, Wien : "Mathematical problems in population genetics"
Julien Berestycki, Paris : " Branching processes and selection"
Jean Bertoin, Zurich : "The cut-tree of large Galton-Watson trees and the Brownian CRT"
Matthias Birkner, Mainz : "Ancestry in the face of competition"
Jochen Blath, Berlin : "An ancestral recombination graph for diploid populations with skewed offspring distribution"
Nicolas Champagnat, Nancy : "Adaptive dynamics in an individual-based, multi-resources chemostat model"
Graham Coop, Davis : "Moving towards a general model of the coalescent with linked selection"
Jean-François Delmas, Marne-la-Vallée : "Record on Levy trees and paradox on advantageous mutations"
Steven N. Evans, Berkeley : "Go forth and multiply?"
Warren Ewens, Philadelphia : "On the deterministic theory of population genetics and its possible stochastic extensions."
Robert Griffiths, Oxford : "The Lambda-Fleming-Viot process and a connection with Wright-Fisher diffusion"
Joachim Hermisson, Wien : "Evolutionary rescue in structured populations"
Paul Joyce, Idaho : "Characterizing the Distribution of Lysis Time and Burst Size in Lytic Phage"
Götz Kersting, Frankfurt : "The total external branch length of evolving Kingman coalescent trees"
Fima Klebaner, Victoria : "The Long Run Age Structure of Population-Dependent General Branching Processes in Environments with A High Carrying Capacity"
Steven Krone, Idaho : "Antibiotic resistance plasmids and spatial structure"
Tom Kurtz, Madison : "Filtering and models in population biology"
Amaury Lambert, Paris : "Coalescent point processes and phylogenies"
Hans Metz, Leiden : "Conflict between alleles and modifiers in the evolution of genetic polymorphisms"
Martin Moehle, Tübingen : "On Compound Poisson Population Models"
Pleuni Pennings, Harvard : "Quantifying the evolution of drug resistance in HIV"
Cornelia Pokalyuk, Freiburg : "Selective sweeps in structured populations"
Lea Popovic, Concordia : "Stochastically induced bistability in Density Dependent Population Processes on Multiple Scales"
Peter L. Ralph, Davis : "Exploring recent relatedness -- IBD and biparental ancestry"
Serik Sagitov, Göteborg : "Interspecies correlation for Brownian traits"
Chi Viet Tran, Lille : "Limit theorems of historical processes in population dynamics"
Vladimir Vatutin, Moskow : "Critical branching process with two types of particles evolving in asynchronous random environments"
Amandine Véber, Palaiseau : "On the usefulness of genealogical trees"
John Wakeley, Harvard : "Gene genealogies within a fixed pedigree, and the robustness of Kingman's coalescent"
Anita Winter, Essen-Duisburg : "Tree valued spatial Lambda-Cannings dynamics"
| | Monday 11 | Tuesday 12 | Wednesday 13 | Thursday 14 | Friday 15 |
| --- | --- | --- | --- | --- | --- |
| 08h45 | Evans | Barton | Metz | Coop | Ewens |
| 09h35 | Moehle | Lambert | Champagnat | Pokalyuk | Hermisson |
| 10h20 | Coffee | Coffee | Coffee | Coffee | Coffee |
| 10h50 | Griffiths | Pennings | Tran | Vatutin | Sagitov |
| 11h40 | Ralph | Krone | Véber | Klebaner | Bansaye |
| 12h30 | Lunch | Lunch | Lunch | Lunch | Lunch |
| 14h00 | | | | | Winter |
| 14h50 | | | | | Delmas |
| 15h40 | Tea | | | | Bertoin |
| 16h20 | Wakeley | Tea | | Tea | |
| 17h00 | Kersting | Kurtz | | Joyce | |
| 17h50 | | Popovic | | Blath | |
| 18h40 | | Birkner | | Berestycki | |
| 19h30 | Dinner | Dinner | Dinner | Dinner | Dinner |
Étienne Pardoux, Université de Provence, Marseille, France
Anton Wakolbinger, Goethe Universität, Frankfurt, Allemagne